2 tags
1 tag
4 tags
2 tags
2 tags
1 tag
"If it is right, it happens. The main thing is not to hurry. Nothing good gets..."
– John Steinbeck (via rulesformyunbornson)
7 tags
4 tags
preppy & pink
                                              The New Prep Standard | Paris | The Sartorialist                                                       Summer Sorbet | Erin Ever After
5 tags
3 tags
3 tags
True... →
3 tags
3 tags
10 Best Desserts
When I was younger, the only phrase I felt entirely comfortable saying in Chinese was, "Wo yao tang."  I want candy. (Actually, tang literally means sugar, what I meant was tang guo.) Such simple, crude, and unsophisticated language but oh so direct.  Growing up, I went through periods of extremes: nai nai sneaking me candy from her stash in the freezer (causing me 6+ cavities),...
1 tag
2 tags
Watch
                     TEDX, Melinda Gates: What Non-Profits Can Learn from Coca-Cola If Coke can get their products in far flung places, why can't governments and NGOs deliver condoms and vaccinations in the same way? How can we make public goods ubiquitous? 1. Real-time data.  Not end-of-project evaluations that cannot inform the implementation process or changes in implementation. 2....
1 tag
2 tags
On the hunt
Next month, I'm crossing an ocean armed with loads of bug spray, soft toilet paper, and my designer safari clothes & 4" heels to strut around in my research villages.  Just kidding.  Sadly, on my hunt for cute, girly outdoors gear, I discovered that LL Bean and HTO, my two "designers" of choice (or circumstance?), have a dearth of fashionable merchandise, let alone...
3 tags
The New Geopolitics of Food: why food is the new... →
"For the planet's poorest 2 billion people, who spend 50 to 70 percent of their income on food, these soaring prices may mean going from two meals a day to one. Those who are barely hanging on to the lower rungs of the global economic ladder risk losing their grip entirely. Already in 2011, the U.N. Food Price Index has eclipsed its previous all-time global high; as of March it had...
1 tag
Zach Hyman
Zach received much attention for his models' naked jaunts, most notably through the Met, and his naked photo sessions on the NYC subway.  Though some of his shoots border lewd and disturbing (animal-masked couple), I am so taken these photos.  They are full of energy and capture movement and color so brilliantly!  And with these, I'm off to NYC for the weekend. ...
2 tags
Lunch at Casa Missoni
Missoni's vibrant colors and patterns go beyond the runway to grace the famiglia's dining table in fashion headquarters, Sumirago, Italy.  Simple, seasonal ingredients are served on brightly colored plates and shared by three generations of the Missoni family in their Northern Italy Boffi kitchen.  Buon appetito!  Tai Missoni's shrimp & potato salad Rosita...
2 tags
4 tags
JR: photograffeur
                                         JR, photograffeur (graffeur is French for graffiti)                                                     Wrinkles in the City | Shanghai, China                                                  Women Are Heroes | New Delhi, India                                                            Along Seine River, Paris, France ...
1 tag
News Flash: Obama Born in US!
It's been confirmed: Obama is officially eligible for presidency.  Donald Trump is still skeptical (Huff Post) though.  "[Trump] suggested it should be inspected to ensure its authenticity."  How RIDICULOUS.  My eyes are rolling around in the back of my head.
1 tag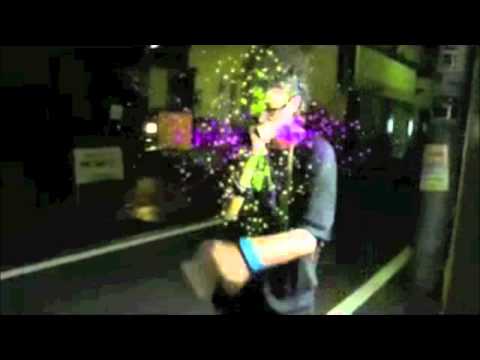 1 tag
"Imperfection is beauty, madness is genius, and it is better to be absolutely..."
– Marilyn Monroe
2 tags
1 tag
joie de vivre!
                        Aren't these fantastic fun?  I didn't work on them, but I love the colors & patterns So much has changed since last year this time and all for the better!  Simple things such as dying eggs (for the first time in my life!), preparing meals with new friends, cat napping through rainy weather and waking to brilliant sunlight, eating an idyllic dinner outside...
Half way around the world with every step
This morning as I was leaving for a long drive and retreat from the city, I found sand in my shoes from a vacation I took to Thailand's beaches.  Paradise in every step!  It instantly made me smile :) (On ferry to islands) (Thailand's beaches.  Unfortunately, the beaches I visited didn't look even close to this paradise, but I keep pretending they did!)
4 tags
Philippe Starck
                                                          whimsical. luxurious. art-deco.                                            entering Wonderland | Delano Hotel | Miami, FL                                                                Hudson Hotel | New York, NY                                                          Yoo Hamburg | Hamburg, Germany ...
1 tag
America, Allen Ginsberg
                                                                America I've given you all and now I'm nothing.                                       America two dollars and twenty-seven cents January 17, 1956.                                       I can't stand my own mind.                                       America when will we end the human war?...
2 tags
3 tags
1 tag
is the government shutdown? →
2 tags
"We keep postponing happiness. We can only experience happiness now. The..."
– India, "The Geography of Bliss"
The techniques, aesthetics, and intellectual... →
                                                             (click for a photo slideshow)